Auxiliary
For complete information click on above logo

The American Legion Auxilary Chili Post 1830 meets at the post home on the second Tues of each month!

Meetings start at 7:00 pm, and generally last 1 hour.

If you are interested in joining the Auxiliary at post 1830, then please attend one of these meetings to join or transfer in.



Meetings are on the following dates:

Feb 14th, 2023, @7:00pm

March 14th, 2023, @ 7:00pm

April 13th, Breakfast 9:30,Meeting to fallow 2023

May 16th, 2023, @7:00pm

NO MEETINGS JUNE,JULY,AND AUGUST

Sept. 12th, 2023 @7:00pm
Oct.8th, Breckfast 9:30, Meetings to Fallow
Nov. 14th, 2023,@7:pm
Dec. 12th, Dinner at 6:pm, meetings to fallow






*** Bylaws and Standing Rules***
Click here to View Bylaws and Rules
Committee Chairs:
Americanism: Sharon Arthur
Aux. Emg. Fund: Sharon Beeke
Cancer: Julianna Frisch
Chaplain Shiela Giumento
Children & Youth: Melody Wasko
Community Service: Julianna Frisch
Const. & ByLaws: Carolyn Emerson
Coupons: Donna Ramer
Education: Sharon Brrke
Finance: Nicole Booth
Empire Girls State: Sharon Arthur & Kathy Veltz
Historian: Maureen Warmerdam
Juniors: Laurie Forest
Leadership: Dolores Carpenter
Legislative: Kathy Veltz
Membership: Jane Donaldson
National Security: Carolyn Emerson
Past Pres. Party: Carolyn Emerson
Poppy Chairman: Jane Donaldson
Public Relations: Melody Wasko
SunShine: Barbara Alexander
VA&R/Field Service: Sharon Arthur
Wounded Warriors: Sharon Beeke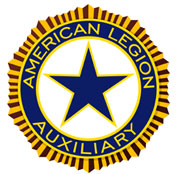 Please click here to go to Dept. of N.Y.'s website.
BECOMING A MEMBER:

* A woman who is eligible for membership in the American Legion.

* The Mother, Wife, Daughter, Sister, Granddaughter, Great grand-daughter, or Grandmother of members (both male & female) of the American Legion, & deceased veteran who served in the United States Armed Forces during the listed war periods. (See application form or link to the American Legion site).

* Step relatives are also eligible.

* Are you under the age of 18??? You can also join as a Junior member. See what is available when you go to: http:/www.legion-aux.org/membership/docs/bec_jr.html/.

For a list of post officers, please see the Post Officers page on this website!

The following is an exerpt from the Jan-Feb 2005 issue of the Legionnaire, the official publication of the Monroe County American Legion:
"We have many wonderful committees Including:
* CHILDREN & YOUTH: We make monetary donations and many volunteer hours.
* VETERAN'S AFFAIRS & REHABILITATION: Many visit VA hospitals, cooking meals for less fortunate vets.
* DONATING FOOD and hours to Rochester Outpatient Day Care Center.
* DONATING CHRISTMAS gifts and food for our Out Patient and hospitalized veterans.
* Community Service; we make many donations to local charities and volunteer hours.
* Americanism is another great program. We show our pride in being an American every day.
These events take many volunteer hours! The American Legion Auxiliary does so many wonderful things it's no wonder we are the largest Patriotic Women's Organization in the world!!"